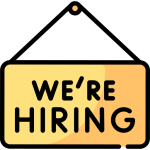 ⭐ We are growing fast and are always looking for professionals to join the team. We  don't just manage properties; we work to improve the lives of residents and real estate investors through property management solutions. We want team members who want more than just a J-O-B; we want people looking for purpose in their career and vocation.
⭐ US: Industry leaders. Always learning. A team first, gossip free, working environment. High performers. A happy place. Mission minded.
⭐ You: High energy. Hardworking, Professional. Problem solver. Make difficult tasks look easy.
⭐ If this sounds like a fit – then let's talk!
⭐ To apply for any of the below positions e-mail [email protected] and include a cover letter, resume. For extra credit, email a short video and tell me what motivates you!
Note – "We do not have any job postings open at the moment but keep checking the website for any updates